How to protect your rental property in Lansing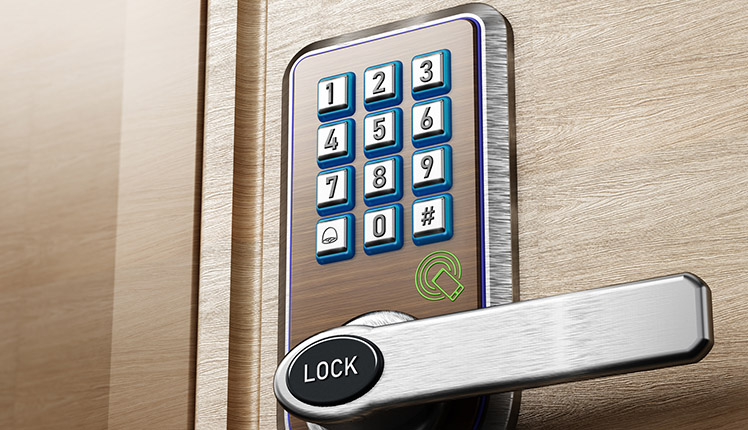 Regardless of whether you rent out the family lake house or have an assortment of Airbnbs, it can be difficult to protect your rental properties in Lansing. With physical keys passing through multiple guests, it's normal to worry about missing valuables or past guests showing up unexpectantly. Not to mention, what would you do when there's a flood or fire at your rental unit while you're offsite?
From enhanced locks to completely automated home security packages, here's a quick guide on how to protect your Airbnb in Lansing.
Say goodbye to traditional keys when you use smart door locks
When a visitor moves on, they could follow your instructions and provide the keys for the ensuing occupant. On the other hand, if a tenant grabbed or made a copy of a key, it would be possible to re-enter later. Needless to say, you could switch out your locks when a key is lost, but that is not a timely or cost-effective solution.
Fortunately, you are now able to install smart door locks that function along with your home's security to alleviate these worries. You can then give each renter their personal code number for entry. When tenants depart, there's no need to worry with a key dropoff. Instead, simply program the codes to deactivate when they're gone. If previous occupants come back and attempt to use their previous access code on the number pad, you will be warned with an update of the failed attempt on your phone.
A smart security system makes available rentals look occupied
The goal is that your Lansing rental property will have guests, but that won't always be the case. Despite this fact, you need to make it seem that someone is home so your place isn't a potential target for burglars. Incorporating home automation into your property's security affords you the opportunity to benefit from smart lighting, motion detection devices, and video cameras that make your lodging seem lived-in.
Start by programming your smart lights to switch on at specific hours of the day. You will also want your security app to warn you if your exterior cameras spot someone hiding in the shadows or approaching your primary entry. You have the opportunity to take advantage of the 2-way talk capability to make them aware that they're being watched or program your lighting to automatically come on when a surveillance device or motion detector uncovers questionable movement.
Protect your Lansing Airbnb with 24/7 monitoring
Your occupants will be more relaxed if they feel protected from burglars, particularly when Lansing is unfamiliar territory. When a prowler attempts to break in, your security system will not only initiate the alarm siren but will also ping your 24-hour monitoring professionals. Regardless of your location, emergency services will be on its way. Your monitoring experts are capable of acting as your authorized go-between and loop you in when you're available.
In addition to home invasions, your monitoring hub can link to fire alarms, flood sensors, and carbon monoxide sensors. It can be harrowing for your guest if a pipe bursts or a fire erupts. You will then be sent a cell phone alert that a potentially dangerous event has occurred, but a representative will also authorize emergency services while you're en route.
Order your new home security system in Lansing
The most sensible strategy to protect your Lansing rental property is to get the latest in home protection. Luckily, Vivint has popular choices like smart light bulbs, smart entry locks, and 24-hour monitoring. Reach out today and our home security experts will design a system that makes sense for your Airbnb or rental property. Dial (517) 760-8950 or submit the form to begin!
Communities Served Around Lansing By Smart Security Specialists Your Local Vivint Authorized Dealer